It Cost How Much?
Mar 08, 2021
If you are reading this on my website, why not subscribe? It takes only a minute and you will know about my photo print giveaways and other offers. The blue subscribe button is right below. Thank you in advance!

It cost how much?

I Bought a New Monitor - It was Expensive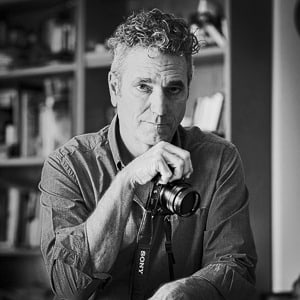 Martin Banks
March 8th, 2021

If you follow my Instagram page, you may have seen the video I posted over the weekend about buying a new computer monitor. So I guess the secret to getting a lot of comments and messages on social media is to purchase something ridiculously expensive and post about i. Not that anyone was being judgy, at least not too overtly.
This seems like a good place and time to talk about my (extravagant) purchase. The first thing that comes to mind is something a mentor of mine used to say all the time "People buy emotionally and justify intellectually." If you ever have a chance to work with Darren Cecil, please do so. He will change your life.
First, a little background on my monitor situation. I have a 15" MacBook Pro and a ten-year-old 27" monitor that came bundled with a different computer when I bought it. I used them both to edit photos, and I felt like I was struggling to make sure the images were the best they could be. It was time for some new tools.
According to Darren's reasoning of emotion vs. intellectual, I bought a new monitor because of the positive emotion of making a purchase. But first, I thought about it and reasoned out why I needed a new monitor to justify the purchase. It didn't take much for me to come up with a list of reasons.
My MacBook monitor wasn't big enough for editing the giant image files that I am working with.

My old 27" monitor was used up. It was so dim that the bright whites came out a mild muddy grey.

I am a professional, and I should be using professional equipment. I need a pro monitor.

The old 27" wouldn't calibrate correctly, so I couldn't use it to check colors.

The MacBook does pretty good with colors, but it could be better.

People are paying a lot for giant prints of my photos. I owe it to them to have a properly calibrated monitor.

I have saved so much money over the past year from not being able to travel that I can afford a new monitor.

If I buy a new monitor, I'll use it for many years to come. I should make sure it is the best it can be.
I came up with more justifications, but you get the idea. There were a lot of reasons in my mind as to why I need a new monitor.
Now that it was an intellectually justified purchase, the emotional part came into play. I did all my research, which involved talking to an imaging engineer friend and googling his suggestion. It was just a matter of deciding which of three models to buy and then clicking "Add to Cart."
Done.
Now I was excited - it became emotional. When was it going to ship? How many days in transit? Would I get a UPS tag on my door? How am I going to arrange my desk for a new workflow? This will be so cool - I CAN'T WAIT!!!
The monitor came, and my son helped me record the unboxing video. I am so happy with my new (er ah) toy (professional color grading and photograph viewing device.) It really was exciting and so much fun to sit down and edit photos and be able to see what I was doing while I was doing it. And what I am seeing in the monitor is what my printer is printing, exactly.
I teased you about the cost at the beginning of this essay. It was $2500. And now, really, how do justify spending that much on a monitor? For me, it's pretty straightforward. As a rule, I typically don't buy much stuff. When I do buy, I lean toward buying the highest quality and most feature-rich products. What I spend upfront, I save in the long run with higher reliability and a longer useful lifespan. There also is no compromise in the quality of the product I produce as a photographer. If an image doesn't look right, it's all on me. Now, there is no way to blame my equipment for off colors or a dim print. (See, I'm still justifying.)
The photo above is the first one I processed using my new monitor. It is a desert sunrise. I had looked at the image in the past but never did anything with it because it needed more help than I could give it at the time. I think it turned out pretty nice.
Have you bought anything recently that you could justify because you actually saved money during the pandemic? Or have you splurged on something recently "just because?" How do you justify a purchase that goes beyond reason? Let me know in the comments or send me an email. I am always happy to hear from my readers, and I respond to every comment.
Thank you for reading. I appreciate you.
Martin