I am Posting My Writing Everywhere I can
Dec 10, 2021
I am Posting My Writing Everywhere I can
and why I don't care about SEo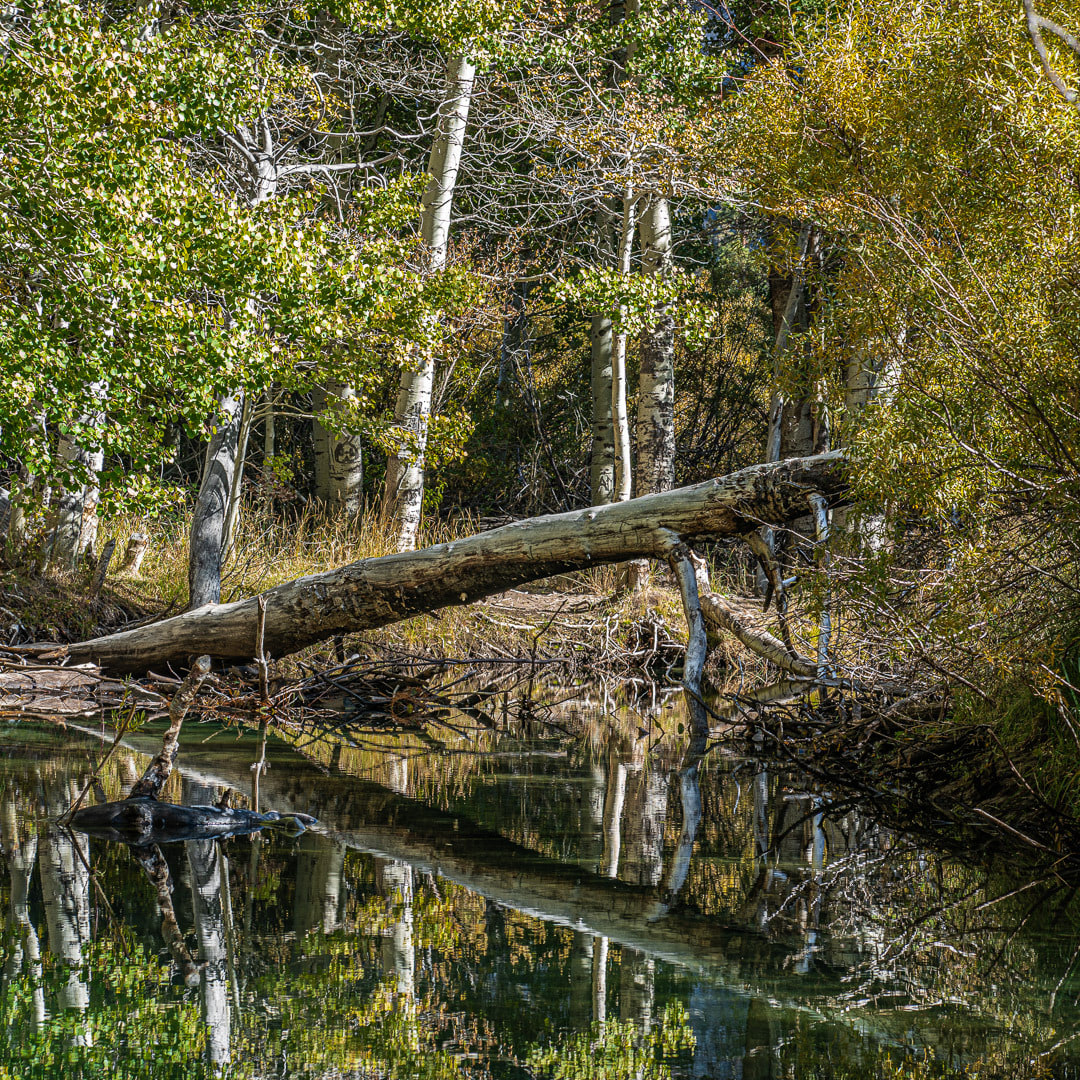 I didn't even get wet for this photo in June Lake, CA

To recap my situation, I recently quit posting my photos on social media because I was tired of working as an unpaid content creator. Today I am again writing about marketing my photography art business without using social media.
When leaving social media, I needed to figure out how to market my business in other ways. I have been writing this newsletter on and off for a couple of years now. The newsletter and the associated email list are the foundation of my new marketing plan. So yes, I am still creating content, but it isn't content made just to feed the social media hamster wheel.
I have been looking to get more mileage out of the essays I write and the photos attached to each story. I have an excellent email list of clients and potential clients that follow my work, which is terrific. I also post the same writing to my website blog, which breaks a cardinal rule of SEO. More on that later. In addition, Mailchimp also creates an HTML version of my newsletter that sits on their server. So my work is already appearing in several places on the web.
In researching how to leverage my wordsmithing, there were a lot of suggestions for reposting to Quora, LinkedIn, or online blog sites. I chose Medium and Substack as two more places I could repost these musings and find a wider audience. It was easier to repost my stories to these sites than I thought. I was already reading other authors and had accounts at those sites, so it was just a matter of setting up my first post. Those sites are worth checking out if you haven't already.
Bam, Done.
Actually, I've written on Substack before. A newsletter called Blind Spots, which is about my blind spots when it comes to racism. Anyhow, by posting my newsletter in several different places, I broke that cardinal rule mentioned before, which has to do with Search Engine Optimization (SEO). When one talks about SEO, you might as well say "when you google it" because that's what it is about - Google.
Google is constantly scanning the web for new content to index and then present in the results of a google search. Without getting into the messy details, when google finds an article and adds it to the index, it also registers the URL for that article. If Google finds the same piece at a different URL, it gets confused. Yup, Google gets confused. Google doesn't know where to send people looking for that information because it is available in more than one place. When content shows up on multiple sites on the web, search engines don't know if it is plagiarism, an altered copy, or something else. In that case, Google doesn't index the article, and my writing won't show up in search results.
I don't care.
No, really, I don't care if I show up in the search results or not. My ego wants to think people all over the world are googling "martin banks extraordinary photographer." The fact is that nobody outside of my readers here knows about me and, therefore, won't be googling my name. That's okay because theoretically, I will pick up new readers and customers through this writing, and the more places it appears, the more people will see it. That's what counts.
I'm breaking the rules. Mainly because the laws of the internet aren't working for me. If I'm going to leave social media, touted to be "The Marketing Method" of today. Then I have to be ready to break some other rules too. What could possibly go wrong?
Thanks for reading. I appreciate you.
I have three original photos to share with you this week. The two pictures with trees reflecting in a stream are from a tributary to June Lake in the California Sierras. The one image with ducks is from a pond next to a general store where we stopped to buy lunch. That was a fun afternoon photographing the ducks.
As it turns out, these three photos are not available for purchase on my website. I don't feel they are good enough, at least not yet. I want to share them because they are what I am currently working on, and I like sharing the process. One or all of them may be available at some point - or not. We'll have to see how they finally turn out. Creating images that are good enough to print in gallery size and display is a process that continues long after the shutter opens and closes.
And, of course, I want to encourage you to take a look at what I do have to offer. There are some lovely images to choose from, and I know you won't be disappointed. My home page is here.
Thank you again for being here. You make a difference.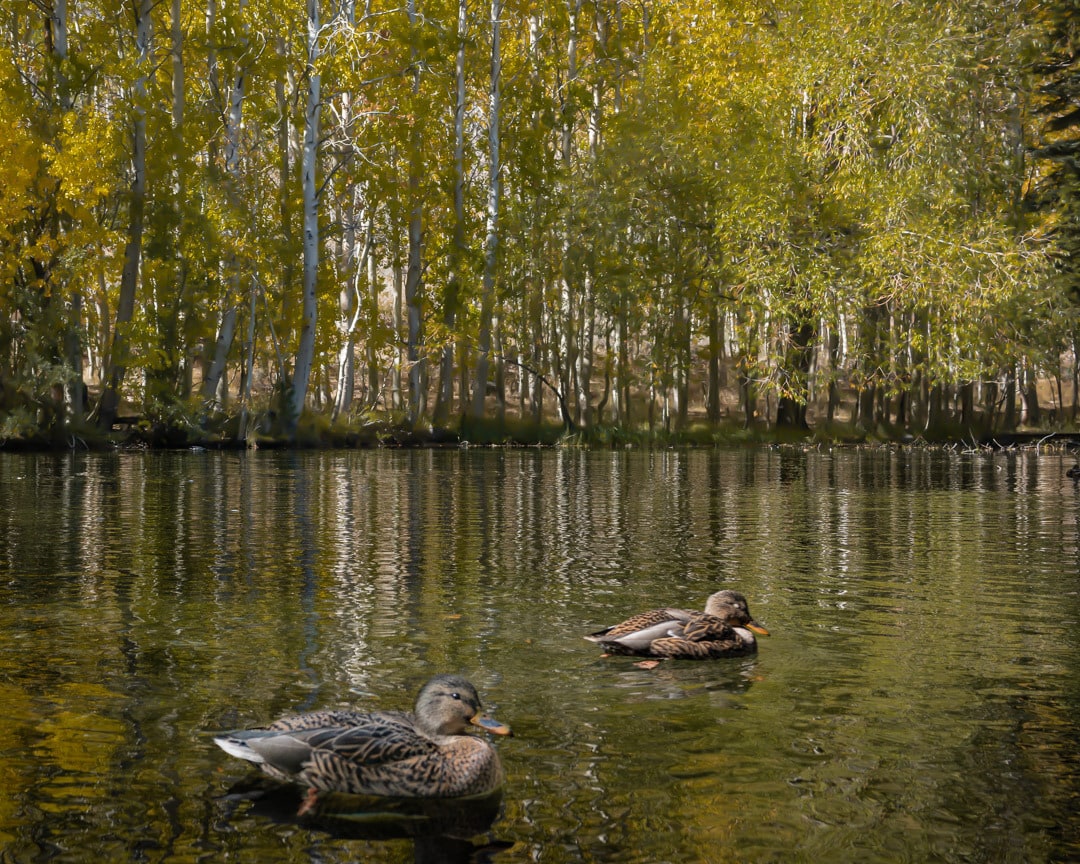 Happy ducks swimming in a pond out behind a restaurant/store/cabin rental place.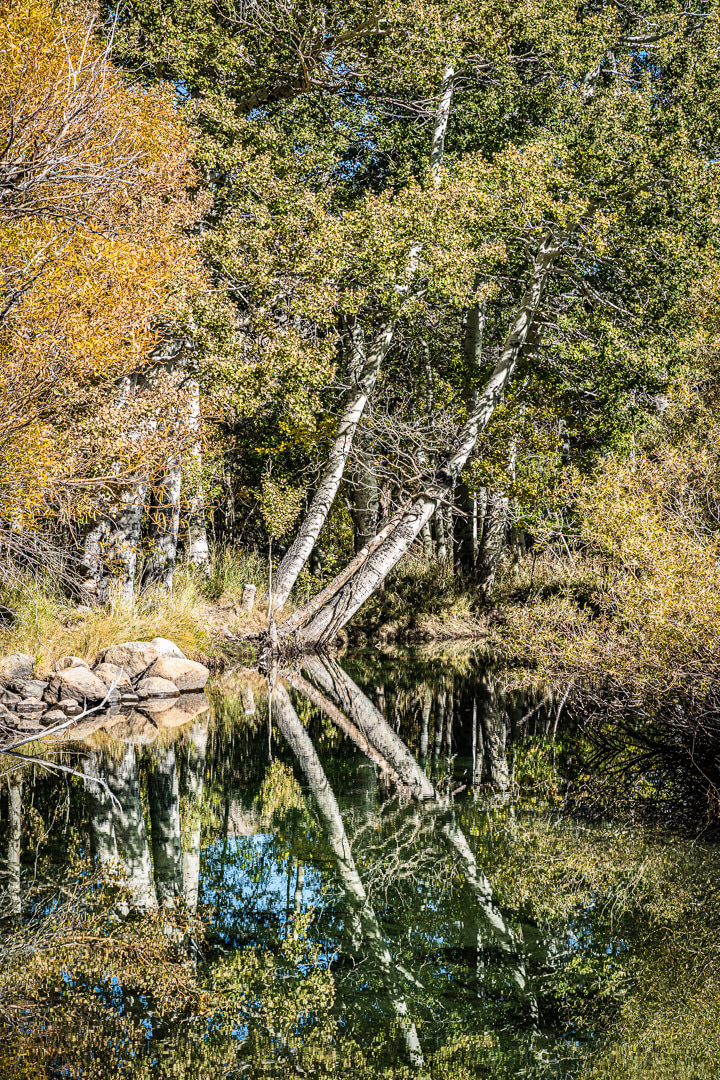 Windless days make these reflected images possible.
If you made it this far, Thank You! I appreciate you sticking with me.