Change Your Life in Less than 30 Seconds
Nov 17, 2020
How a new habit is a mental reset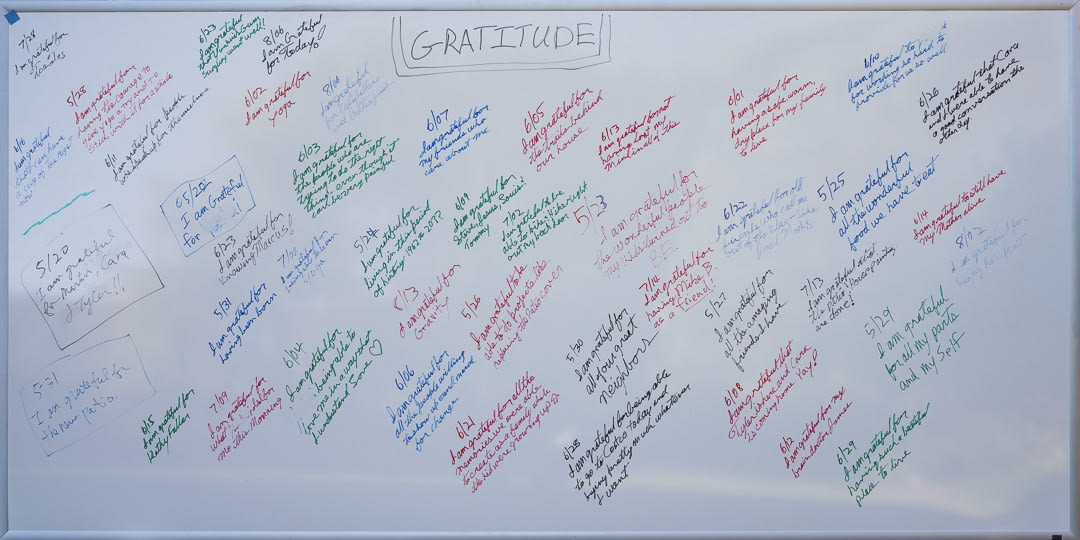 The Gratitude Board that hangs in my home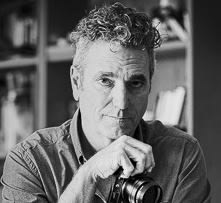 Martin Banks
November 17th, 2020

Those of you who have known me for a while know that I am an advocate for mental health. Like physical health, mental health should receive regular attention to be in the best condition possible. I read a lot—books, magazines, articles, and of course, websites and email newsletters. When the pandemic began, I started reading up on how our new normal might affect us mentally. I mean, really, how do we cope with the sudden loss of human connection if we can't hang out with our friends regularly? There was also the valid mental hand-wringing over all the other "losses" we had to endure, dinners out, concerts, birthday parties, vacations away, weddings, and on and on...
While I was doing all this reading, one theme kept occurring again and again. It was the simplest way to gain or maintain a positive attitude, and it took less than thirty seconds a day to achieve. It is the physical and mental act of writing down one thing you are grateful for on that day. There is a lot of conversation about mindfulness and about practicing mindfulness and the benefits of that practice. The act of writing down one thing you a grateful for is the most basic form of mindfulness I can think of. The experts seem to agree that doing this for twenty to thirty days in a row is enough to create a positive mental change. Consistent practice over that period may even develop a habit of gratitude that lasts well beyond the initial period.
The photo above is my Gratitude Board. It's a four-foot by eight-foot wipe-board that I basically rescued from the trash bin. It hasn't always been a Gratitude Board. It's been my idea board and my game plan board in the past and will be another kind of board soon. It hangs at an angle in the back stairway at my home, so the writing is slanted when orientated horizontally. Yes, I have a back stairway at home. And no, I have no idea why.
So in May of this year, I cleaned my wipe-board and invited my family to add their daily gratitudes to my burgeoning Gratitude Board. My wife added a couple, and my son looked at it and remarked, "cool pops," which is his comment for many things. I kept the practice up through June with nearly daily gratitudes and even wrote a few in July. Now it is November, and the board is still filled with my gratitudes. I see it every time I walk up and down the stairs. It reminds me of all that I am grateful for and the positive things in my life. I wanted to create the photo, above, and print it out as a reminder of my Gratitude Board. Soon I will wipe the board clean again as I expect to have a new project to work on in December.
Our national day of gratitude is coming up next week. You might consider setting aside a pen and sheet of paper and taking that thirty seconds a day, until next Thursday, to write down what you are grateful for. If you hang in there until next Thursday, you will be halfway to the twenty days they say it takes to create a habit. In this case, a habit of gratitude.
On one last note, you may notice a name has been erased from the board. That would be my wife's name. She is a private person and would rather her name not be on the internet. I respect that and am glad she speaks up when uncomfortable about something. And yes, I am incredibly grateful that she is my wife. She is a lovely and gracious person.
Thank you for reading!
The photo print for the giveaway arrived over the weekend. I'll have an unboxing video on Instagram in a day or so and begin promoting the contest, which typically runs for a week. That puts the drawing at the end of next week, so with Thanksgiving on Thursday, Friday will probably be the drawing. The giveaway is to promote my work and collect email addresses for this newsletter. If you know someone who might like to win an archival quality fine art print, please forward this newsletter to them. One of the benefits of being a newsletter subscriber is that you are already entered in the drawing.